Lorraine Rekmans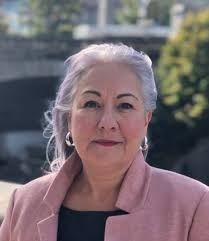 I am a small business owner in Kemptville with my husband where we own and operate our family business Rekmans Automotive. We have operated this business in Kemptville for 15 years. Both of my sons have also settled in Oxford Station and Oxford Mills to raise their families.
I worked as a Journalist for ten years before moving into work at a number of non-profit organizations as an advocate for environmental and social justice issues. My entire career has been working in media and non-governmental organizations. I have acquired extensive experience in policy development, working with government, industry, civil society and Indigenous communities. I am the former Executive Director of the National Aboriginal Forestry Association where I advocated for Indigenous rights in Canadian forest policy. I also worked on the National Forest Strategy at the national and international level.
The National Forest Strategy was a very important and critical forum for many levels of Canadian society to formulate a national vision for managing Canada's forests in a sustainable way. Federal, provincial, municipal governments, Indigenous governments, environmental groups and civil society all participated in this exciting undertaking. It was a signal to me that all people want to work together for a sustainable future. I was encouraged by this and I realized there has to be political will to support society in their undertakings for a better county.
I have volunteered for many non-profit community groups and currently serve as a volunteer on a national board.
Together, working with others, I was instrumental in a number of natural resource development initiatives in Northern Ontario before settling in Eastern Ontario in 2001. I participated in proposal writing for the first call for a Model Forest in Canada. I was involved in setting up local forestry enterprises and in developing the first Aboriginal-owned forestry marketing co-operative in Canada. I have supported and advocated for sustainable use of natural resources through organizing, research, writing, advocacy and regional and national conferences.
I had the opportunity to Chair an international dialogue on forestry at the UN Forum on Forests. I helped organize the World Forestry Congress at Quebec City working with Indigenous participants. I have assisted in writing a number of international declarations including the Indigenous Peoples Declaration on Forestry, which was submitted at the World Forestry Congress, in 2003.
I am a recipient of The Rosalie Bertell Award for outstanding service in the field of environmental health, from the International Institute of Concern for Public Health.
I am currently the Indigenous Affairs Critic in the Green Party Shadow Cabinet. My first political experience was as a federal candidate for the Green Party in Algoma–Manitoulin—Kapuskasing (2008, 2011). I was on the ballot in Leeds Grenville Thousand Islands and Rideau Lakes in 2015, securing over 2,000 votes (3.7%). I was also on the ballot in 2018 in the by-election
I divide my time between my duties as Critic for the Green Party of Canada, my role on the Board for Forest Stewardship Council of Canada, my business and supporting my family in the care of my grandchildren.
I am of Algonquin and French descent.